Library
The Jewitches library is a list of books and sources for Jewish practitioners.
These books vary in academic intensity and are in no particular order. 
We do not endorse the entirety of the content of each of the books referenced. We use many of these texts as reference guides; which means we do not analyze every single passage with vigor. Inclusion on the list does not indicate an endorsement of the views, beliefs, or thoughts of the authors or contributors.
​The library will be updated sporadically, so subscribe to our email list to be notified of new additions!
​Have a suggestion? Sent it our way.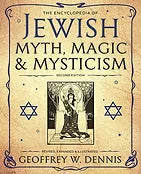 The Encyclopedia of Jewish Myth, Magic and Mysticism
Rabbi Geoffrey W. Dennis
This is an encyclopedia and provides great amounts of practical information. It is a fantastic space to begin and find areas of interest for further exploration.
Jewish Magic and Superstition: a Study in Folk Religion
Joshua Trachtenberg
This text is considered one of the most comprehensive texts on Jewish magic, however, it is an older text and has not been updated. There are many things that have been learned since it was published, however, it is still a great text to read once, as well as to have on hand. Just be sure to cross reference.

The Jewish Dream Book: the Key to Opening the Inner Meaning of Your Dreams.
Vanessa L. Ochs with Elizabeth Ochs
Dreams have always been of importance in Judaism. This text does a quick history of dreams, as well as give advice on how to deal with dreams, nightmares, and interpretation through a Jewish lens. It also discusses prayers to be said before bed.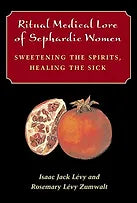 Ritual Medical Lore of Sephardic Women: Sweetening the Spirits, Healing the Sick
Isaac Jack Lévy and Rosemary Lévy Zumwalt
This text focuses highly on the ritual practices of Sephardic women. Topics covered: healing, protection, the ayin hara, birthing superstitions, etc. It covers traditions from various communities.
Ashkenazi Herbalism: Rediscovering the Herbal Traditions of Eastern European Jews
Deatra Cohen & Adam Siegel
A fascinating overview of Eastern European usage of herbs, materia medica of a selection of herbs, great for understanding a basic history of the medical uses of herbs.